It's almost November, so in typical fashion, I'm finally getting around to writing a post I meant to write over two months ago.
The Capes 100 is an ultramarathon held in Cape Breton. The main event is a 100-mile (160-km) run, with 87- and 46-km distances also offered. I opted for the 87-km event since it would be my longest "normal" race by a pretty big margin (I don't really count looped races like the Toboggan Run or Keji's Backyard Ultra) but it still felt reasonable (unlike a hundred-miler).
Capes is kind of our "local" ultramarathon here in Nova Scotia, so I think it has a special place in many people's hearts. It's organized by Nova Scotia Trail Running, a.k.a. Jodi Isenor, who is a local legend to say the least, and company. Because of the pandemic, the race was cancelled in 2020 and 2021, so there was what seemed like a long waitlist to register, and I wasn't hopeful about getting in this year. But surprisingly enough, the list cleared right out and I think that everyone who wanted to register got the chance.
In the months leading up to the race, I didn't follow any specific training plan or even run all that much. Through May and June, I basically ran Hares group runs and the odd Road Hammers workout for around 40-50 kilometers per week, plus all the racing I was doing. But after the Backyard Ultra at the end of June, I realized I needed to get serious and put down significantly more mileage, running 62, 71, 85, 102, and 141 kilometers in the weeks of July.
I knew that climbing was where I needed the most work, so I made sure to incorporate lots of hills. Here are some of the more notable training runs I did:
Most of these runs went smoothly, but the last one was quite the disaster. It left me really worried about pacing, nutrition, and whether I had it in me to put in a full day of work on the trail. But regardless of how I was feeling, there was nothing more to do except taper and hope for the best.
Finally, race weekend came around and we drove out to Mabou, the tiny town in which the race would start and end. A giant field was offered for camping. In addition to the four of us who had driven together, we were camped right beside another six friends and fellow racers, which made for a lovely evening and took some of the pressure off and distracted me from the anticipation. We sat around our camp stoves for a while, but all went to bed early for an early start the next day.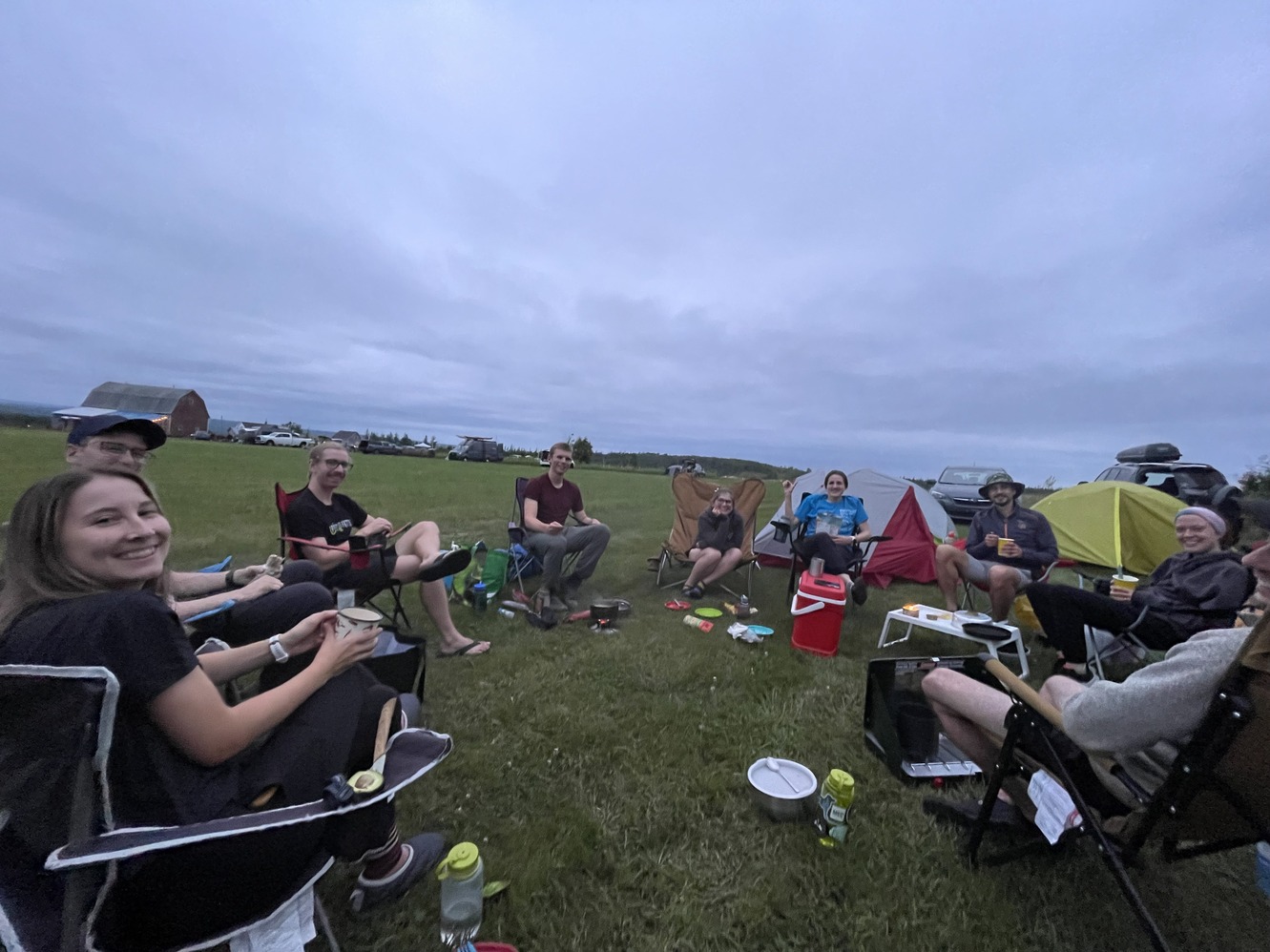 I had a hard time setting goals leading up to the race, since it's very difficult to estimate how fast you're going to run when there's so much climbing involved. Without even knowing what pace it translated to, I decided that anything under 12 hours would be exceptional. But most of all, I just wanted to run a smooth race without any major hitches, even if it ended up being a little slower than expected. Laying in my tent, I wondered if I'd be pleasantly surprised the next day, like I had been in most of my previous races this year, or if I'd crash and burn like I had two weeks prior.
The race started at 6 AM, so I was up around 4:30 to get ready. My vest was packed with everything on the sizeable required gear list, as well as plenty of snacks. I also had a drop bag packed with a huge variety of food, Gatorade, a full change of clothes and shoes, anti-chafe cream, headlamp, and more. It would be taken to one of the aid stations that we'd run across three times during the course of the race.
Before we knew it, we were headed to the start line, excitedly wishing people good luck for the day ahead. The weather looked almost perfect—cloudy and cool.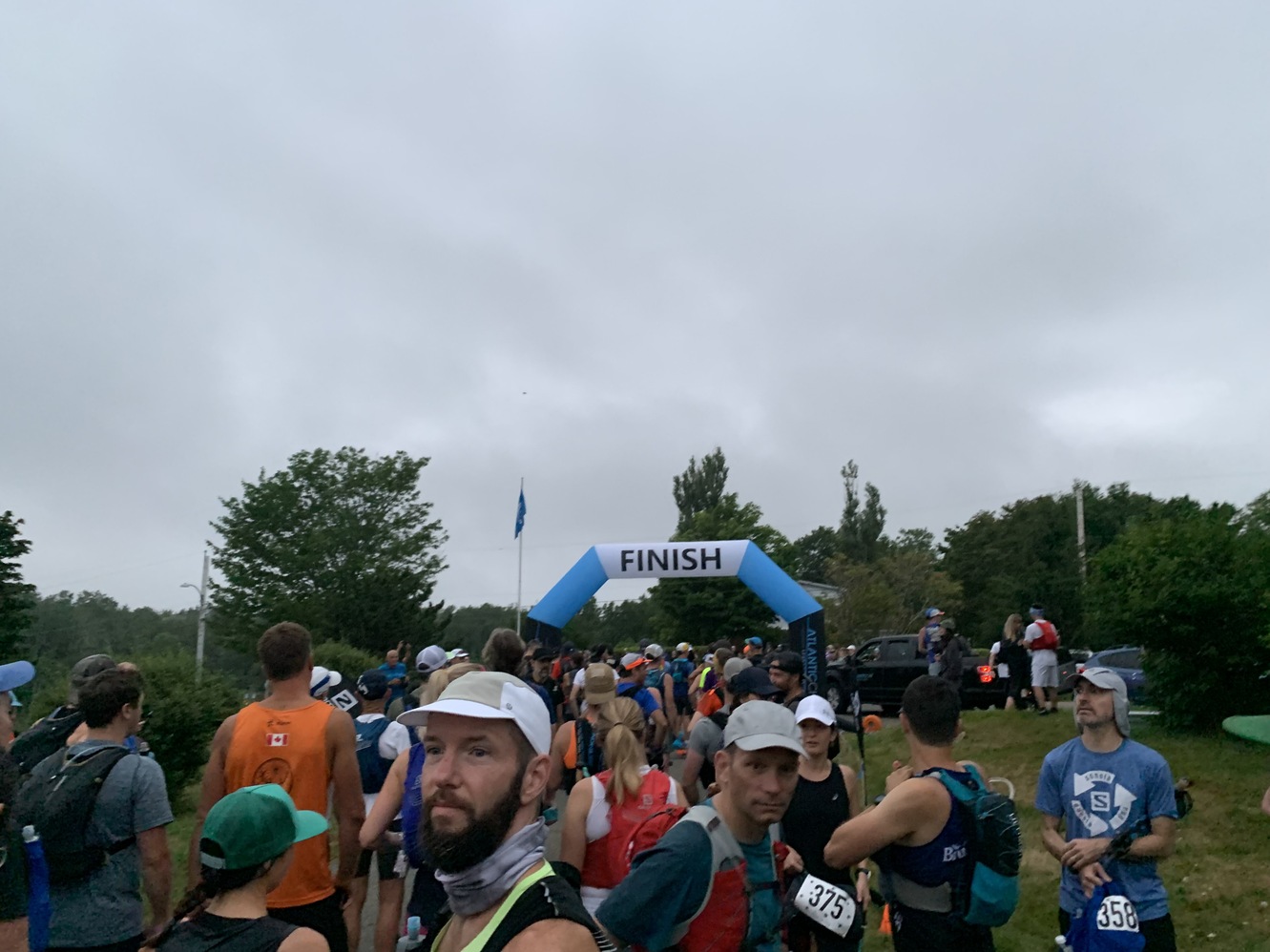 The horn sounded and we were off. The course started with a pretty long mix of paved and gravel road, with some rolling hills. It started to rain, but only enough to keep us cool and not so much as to be annoying. I chatted with fellow racers and the first 15 kilometers melted away, until we finally turned onto some singletrack trail and the first big climb of the day.
I remember feeling invincible hiking through the first climb. My trekking poles were really coming in handy, I was moving fast, and my legs felt super fresh. I actually caught up with my friends who were running the 46km race, and we ran together all the way to an aid station at the 22 kilometer mark where our paths diverged.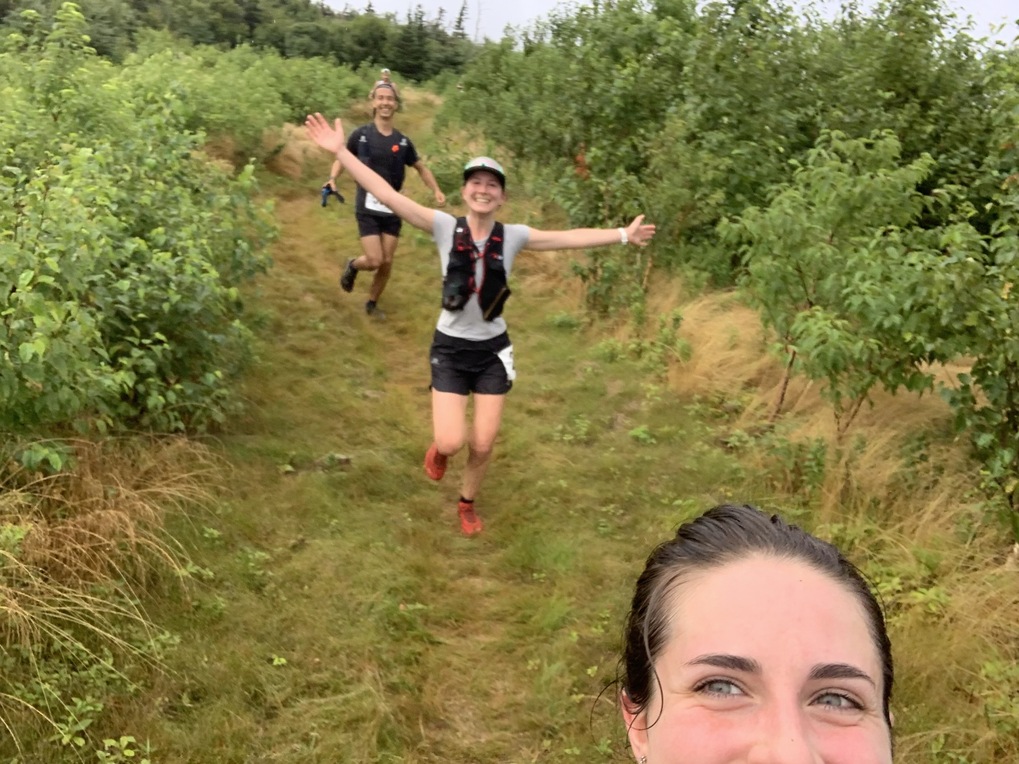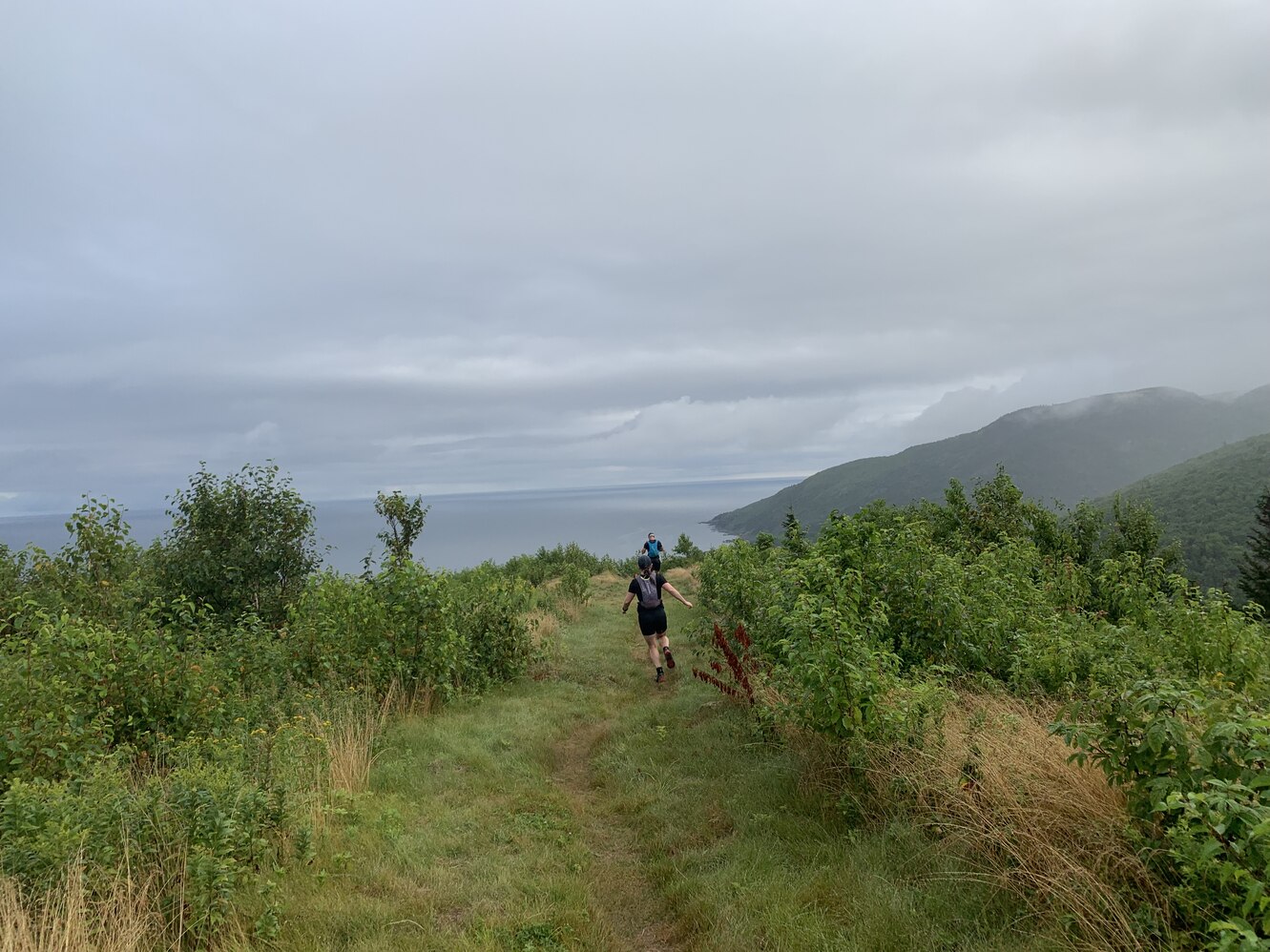 Aid station fare was pretty basic but hit the spot for me. I got by throughout the day on M&Ms, chips, jujubes, and watermelon, as well as the fuzzy peaches, jelly beans, and gels in my vest.
From the aid station, we hit another big climb which led into another long road section, until we reached an aid station just outside Inverness at 37 kilometers, where we went downhill through town and onto the beach. Running on the loose sand was uncomfortable, but my poles helped quite a bit to stay stabilized. I remember being really stressed out, as the only instructions I had regarding the beach were "turn left when you get onto the sand", and I had no idea if I had missed an exit. In the pre-race briefing, Jodi had mentioned that there was never more than 400 meters between course markings, and I had run at least a kilometer through the sand without seeing anything. But I figured that any exit would have been well-marked, so I kept going, and eventually such an exit materialized—much to my relief. I looped back to the road and began the long, slow climb back to the aid station, now nearly halfway through the course.
At this point, I still felt great, and was feeling really hopeful about not bonking too hard. I was thinking back to the double Bluff run, where at the same distance, I was an absolute wreck. I knew I was handling nutrition and pacing much better, so things were looking good.
Another long stretch of gravel road followed, and I got annoyed with stowing my poles and opted to just use them even on the flat ground (they're usually considered most useful for climbing and descending). This ended up being a great decision; the poles took a lot of stress off of my legs.
After the endless gravel and some singletrack with beautiful ocean views, I finally reached an aid station at 58 kilometers—the same one I had hit at 22 kilometers, which also happened to have my drop bag. After looking through the wide variety of junk I had packed in there, there wasn't much of interest, except for a bottle of Gatorate and a full jar of mini dill pickles. I drank a few good sips of Gatorade and ate 6 or 7 pickles, and I was back onto the trail for another big climb and descent which would loop back to the same aid station.
Not only was this the hardest climb of the race, but it was actually two climbs put together. The first climb was tough, but at least there wild blueberries growing along the sides of the trail to eat! After hitting what turned out to be a false summit, the trail turned to seemingly endless switchbacks climbing ever higher. Once I reached the top, it was time to come back down—a treacherous prospect given the state of my legs. But despite stumbling once, the descent was relatively smooth and I felt okay, all things considered.
The section was described as being 7 kilometers long, and by the time I passed the 8th kilometer, I was getting seriously worried that I was off-course. But again, I hadn't noticed any forks that I could possibly have taken the wrong direction, and I had faith in Jodi's course-marking skills, so I forged ahead and eventually came out at the station around 8.5 kilometers from the start of the loop. The volunteers knew of the miscommunication and were very apologetic; I was a bit grumpy and hope I wasn't too unpleasant. I drank some more Gatorade, ate another handful of pickles, and ran on.
With 20 kilometers to go, all that was left was to backtrack to the finish line at the same place the race had started so long ago. A familiar descent became a climb, and a familar climb became a descent. When I came out onto the road, I said a sorrowful thank you and goodbye to the beautiful trails I had spent so much of the day on, and knew it was about to get tough. Only 15 kilometers remained, but it was all road. It started out all right, with a long steady descent, but when the road leveled out and turned uphill, I faltered a bit. I was walking in places I should have been running and doing all kinds of math to calculate what pace I needed to hold to reach the finish line by my desired 5:30 PM, trying hard to distract myself from the pain that had long since grown impossible to ignore. But even the most unpleasant things do come to an end; I reached a crest in the road where some locals on ATVs awaited, and they told me "it's all downhill from here". Never have I heard such sweet words.
Despite the climb being over, running remained difficult, but I was making good progress and I was on track for a finish well under 12 hours. Seeing the familiar scenery gave me hope, and although the kilometers weren't melting away like they had at the beginning of the race, the remaining distance was getting shorter and shorter. Just 5 kilometers to go. Anyone can run 5 kilometers, right?
Around the 85 kilometer mark, I steeled myself and tried to pick up the pace, unsuccessfully. But it didn't really matter. I wasn't going to pass anyone, I wasn't going to get passed, and I wouldn't care much about one minute more or less on my final time. I had spent the whole day thinking about what it would be like to cross the finish line, and quite suddenly, I found myself at the base of the final hill, and I could see the finish. With the remainder of my strength gathered, I gave one last push and reveled in the pain and the sound of my friends cheering me on.
And then it was done, and I enjoyed a well-earned cider.
I'm really proud to have reached the podium (although there were no awards in typical NSTR fashion), but I'm moreso just proud of my performance, even had I come 30th with the same time. I proved a lot to myself, and I can very comfortably call myself an ultramarathon runner now.
My friends were similarly successful! Of the 8 runners in our little tent city, we managed:
1st, 2nd, & 3rd female in the 46km
2nd & 3rd overall in the 46km (3rd place was 1st place female)
2nd & 3rd in the 87km
No DNFs
We camped again that night, and celebrated everyone's achievements. I gained a reputation as The Pickle Guy after everyone mistakenly assumed that my jar of mini pickles contained full-sized dill pickles (I described having eaten 12-15 pickles to everyone's shock). Overall, it was a great race and an amazing weekend.
For next year's running goals, I have two things in mind:
A sub-3-hour spring marathon at either Fredericton of Mississauga
The 100-km event at Ultra Trail Gaspesia.
I've also got my eye on the Canadian Death Race, but I'm not sure if I want to commit to multiple ultramarathons next year. Maybe in 2024… although I have that year earmarked for a hundred-miler.