Back in October, I and the rest of the foreign teachers at work got half of this month off, either before or after spending two weeks working at camps which go on between terms 2 and 3. I taught the "sports camp" which means that I hung out in the gym and on the climbing wall for a few periods each day with students in grades 4 to 6. Afterwards, Pat, Dani, Jomer (two Canadian friends), and I set off to collect passport stamps. Here's where we went:
Vietnam

Hanoi (2 nights)
Hạ Long Bay (1 night)

Thailand

Phuket (2 nights)
Krabi (2 nights)
Bangkok (2 nights)

Malaysia
Singapore (3 nights)
Our adventure started a couple of days before our first flight, with Jomer and Dani's arrival in Bangkok. We didn't do too much of interest though, besides visiting the Bangkok Art and Culture Centre.
At the airport, we found ourselves in a line of reasonable length, but we weren't moving very quickly. We soon found the cause of the slowdown: an extremely large (20 people or so) group of Vietnamese people immediately ahead of us, going home with boxes upon boxes of poorly-packed luggage.
With every step forward, the squealing sound of a woman failing to release the brakes of her cart grated on my ears. I tried to show her how to push down on the handle to make the wheels turn smoothly… and then Patricia tried to show her… but alas, our efforts were in vain and she continued laboring away, with the jammed wheels screaming in pain.
At first it was funny. We were in no rush, and it felt good to not be the ones struggling in the airport for once. We watched as they frantically sealed nearly-empty boxes with roll after roll of packing tape, their contents spilling out almost as fast as they could replace them.
But then, a good Samaritan removed a part of the barrier to create a new line… and we were not in it. The first ones to reach the counter after the massive group were actually behind us in line, which was immensely frustrating.
I still needed to purchase my re-entry visa, and there was no telling how long we were going to be standing behind the last-minute packers. Boxes were passed seemingly at random from the back of the group to the front, and vice-versa. We were making no progress.
Patricia, in a rare break of character, was visibly upset. She had the "I want to speak to your manager" look, and she queued up to do just that. But it was fruitless, for she was not the first to ask to check in ahead of the very slow group, and be declined.
Eventually, we snapped and bolted to a check-in desk when we saw one open up, desperately making our case—after all, tens of passengers that had entered the line behind us had checked in by now. We were allowed to check in, and that was that.
When we arrived in Vietnam, we spent the first few hours just trying to get to our AirBnB in Hanoi. We took a cab from the airport somewhere, but it turned out to be nowhere near where we needed to go. So we walked around for quite some time, struggling to communicate with the locals, before some pharmacy employees were able to write some instructions down for us to give to a cab driver. We didn't actually know what the instructions said, so were operating 100% on faith here. Eventually we ended up at a bus station where we were told to just get on a bus, which we trustingly did. The bus took us to Hanoi, and from there we were able to get a cab who knew where we were staying.
Our lodging had been advertised somewhat misleadingly, and it turned out to be pretty dingy. But regardless, it was only two nights and we didn't plan to spend too much time there. We had dinner, then walked around our area for a little while. We were in a tourist-filled part of town, and it was full of identical-looking shops and restaurants with employees outside trying their best to get you through the doors. I can't say I was a fan of the hustle and bustle.
The next day, we boarded a bus for a tour through Ninh Bình Province, which we had booked the night before.
First, it took us to Hang Múa Peak, which is a small mountain that we climbed up. It was raining pretty heavily, and some of the pathways were pretty sketchy to say the least. The most stressful part for me was watching people ahead of me try to navigate the rocks in cheap plastic flip flops. When we made it to the top, I was astounded by the lovely view… and the amount of garbage left behind, which was pretty discouraging.
Next, we got lunch, then moved on to Tam Cốc-Bích Động, a little tourist destination next to a river, where we got in a boat and had a local woman row us along (with her feet!). Again, the views were lovely, but seeing the places that people leave their garbage is really annoying.
After all that, we were driven back to Hanoi, where we got dinner and went to bed.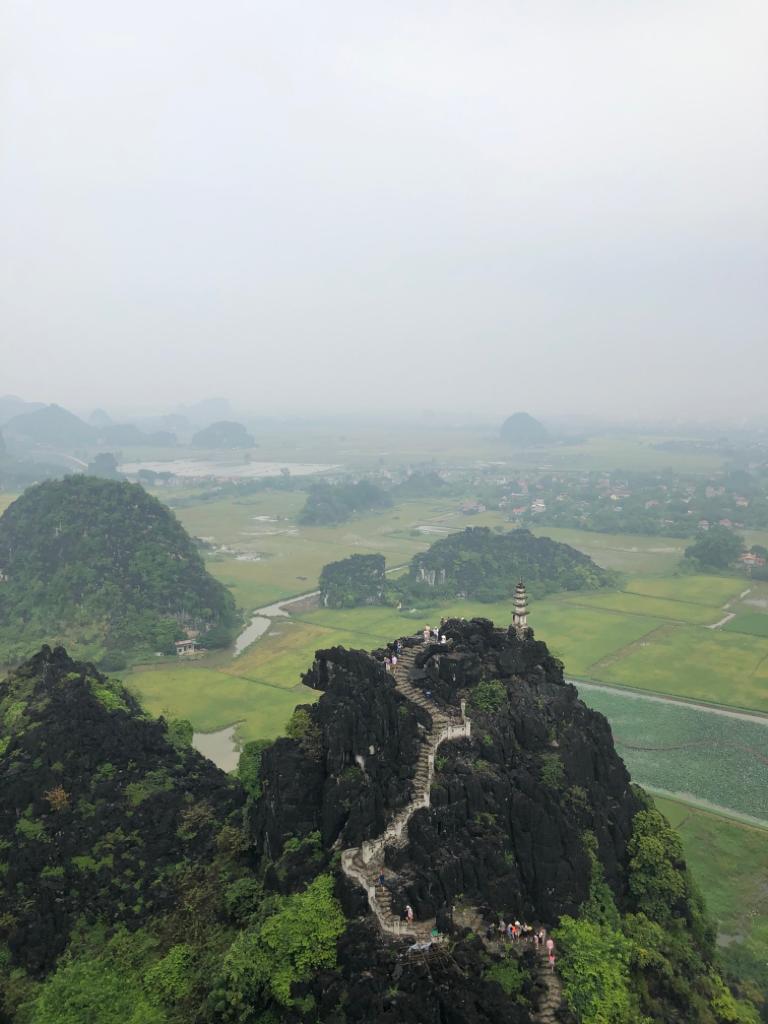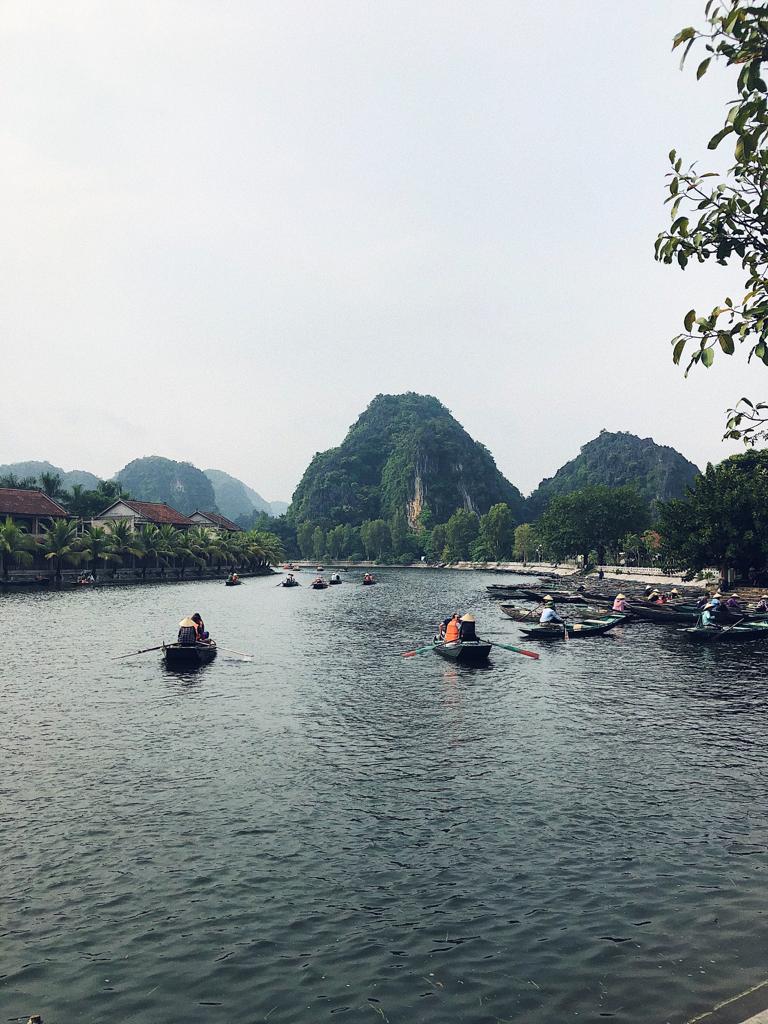 We went to the bus station in Hanoi first thing in the morning, and were greeted immediately by two aggressive salesmen who led us a to a bus that they claimed would take us to Hạ Long Bay. We were slightly skeptical, since the people selling us our tickets didn't speak much English and didn't seem very "official", but we went along with it. After a bit of price haggling, we got on the bus… to find it completely empty. At this point we were pretty much certain that we were being abducted, but the seats were really comfortable so we accepted our fate.
We stayed in the parking lot for about 45 minutes, and just before leaving, one more passenger/victim/accomplice joined us, making us feel a little better. Once we started moving, the bus quickly filled up as we picked people up from the side of the road. With a healthy blend of tourists and locals on the bus, we were now confident that we would live to see another day.
It took about five hours to get to our destination, where we took a cab to our accommodation. This time, our place was clean and bright, with a nice view—quite the opposite of the last one.
It seemed like Hạ Long Bay itself wasn't the most interesting place itself, but it was more of a home base for day trips to surrounding areas. But since it was already mid-afternoon, we didn't have time to leave the city. We walked to a restaurant where we were the only guests and apparently woke the owner up from a nap.
Then we travelled to the foot of Bai Tho Mountain, which has a slightly hidden entrance. Apparently you're supposed to a walk down an alley and up to a gate where a local will open it for you, sometimes after accepting payment. We walked down the alley and reached the gate, but… no one came. It was close to getting dark, so maybe they were closed for the day. We vowed to come back in the morning (despite having to leave by 11 AM to catch a 1 PM flight), and instead had a cab drive us to a well-known night market. When we arrived, it was not what we were expecting… it seemed that the market was open but there was hardly anyone there. So we abandoned our plan again, and headed home to watch a movie and go to bed.
The next morning, we woke up bright and early with the hopes of reaching the top of Bai Tho Mountain before heading back to Bangkok. But when we got out of the cab, the gate to the alley was closed—even less promising than the previous day! We knocked and waited, but again, no one came. Disheartened, we stopped for some Vietnamese coffee (a mango smoothie in my case), walked through a couple of markets, went to the airport, and checked in.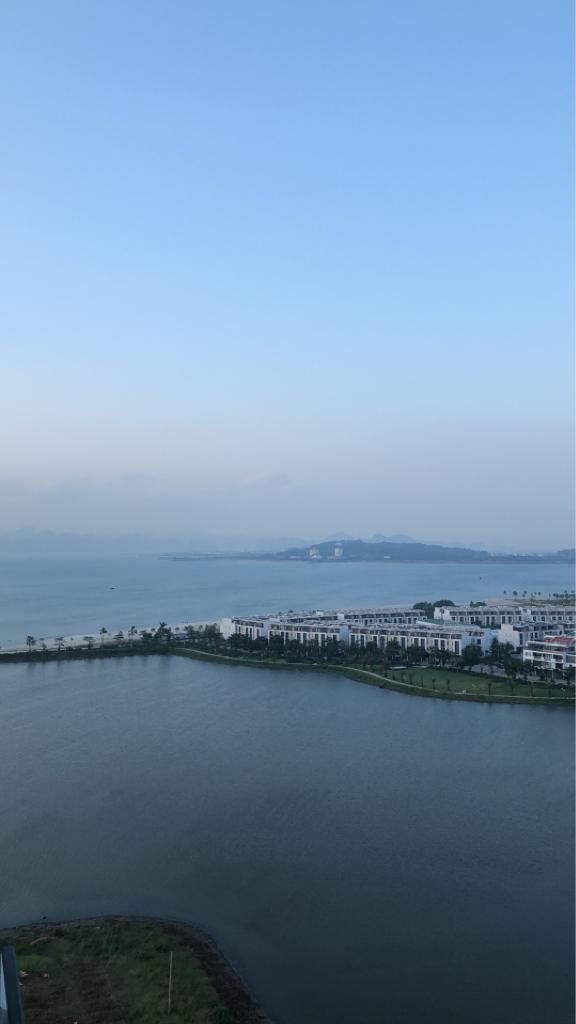 Rather than flying directly from Hạ Long Bay to Phuket, we went home first for a much-needed laundry day. The next day, we headed back to the airport, and flew to Krabi, and hired a car to take us our hotel in Phuket, near Patong beach. In retrospect, Patong was probably the wrong city in Phuket for us to visit.
It had a nice beach, but it soon became evident that the city's main attraction was its nightlife. Along Bangla road, there was no shortage of bars, clubs, and men selling tickets to "ping-pong shows" (feel free to look that up, although I don't recommend it). Patong was also full of near-identical tourist shops and tour vendors; it felt like every market we visited was just a clone of the last one.
For example, we wanted to buy a banig for the beach, but Patricia had failed fantastically in negotiating a lower price at the first vendor we tried. Luckily for us, we found the exact same product at just about every other store we went into, whose owners were more receptive to our haggling.
We spent most of our time in Phuket on the beach. It was nice, but not particularly noteworthy.
From Phuket, we took a boat to Krabi. We ended up arriving earlier than we were allowed to check in to our accommodation, so we found a tiny restaurant to eat at and sat there for a couple of hours. After we left, we stumbled upon another restaurant where we met the owner, Nok. She helpfully pointed out the various boat tours that were available to book, and also told us about about the option to book the tour privately, which was not advertised. We were expected a high price in exchange for such a luxury, but it turned out that it was actually cheaper for us to book privately (a single cost for the boat and driver) compared to booking individual tickets for the four of us. So we happily booked our adventure for the following day, and headed to our accommodation to check in.
That afternoon, we took a boat to Railay Beach. It was beautiful, and the water was warm, but we quickly started getting small bites or stings from something in the water, which we hypothesized to be sea lice. While that put a damper on our fun, there was still plenty of scenery to take in and photos to take. Around dinnertime, we headed back to eat.
Krabi's tourist core turned out to be more pleasant than that of Patong. It was quite relaxed, with less pesky salesmen, but still not much of interest to do other than eat and shop. We decided to go for a traditional Thai massage in the evening, then settled down with a movie and went to bed.
The next morning, we were driven to the beach where we boarded our rented boat for the day. We visited four different destinations. They each had their own charm, but the common factor at each one was lovely weather. I spent most of the day floating on my back in the salt water, working on my suntan and waiting for the fish to come visit me. Overall, this was my favourite day of my vacations.
After we got back, we had dinner and explored a few night markets, but it had started to rain by then. We were all pretty tired after a long day in the sun, so we got ready to leave the next day and went to bed. In the morning, we woke up to the realization that our driver to the airport had already arrived (an hour before the scheduled time) so we finished packing as quickly as possible, left for the airport, and flew back to Bangkok.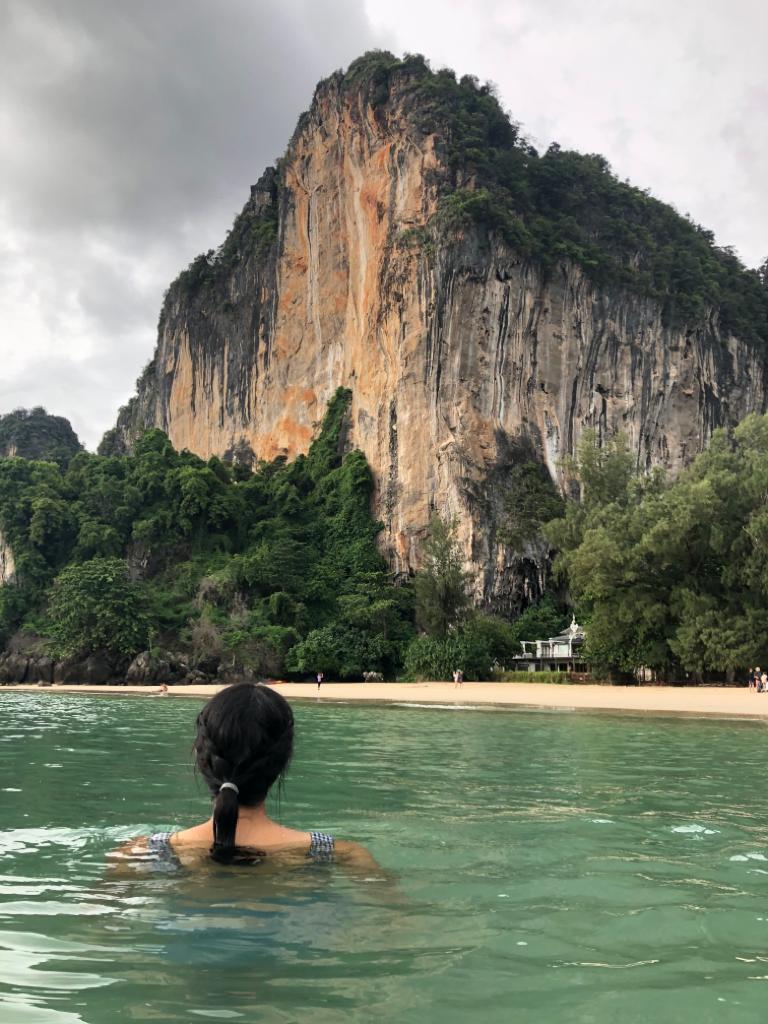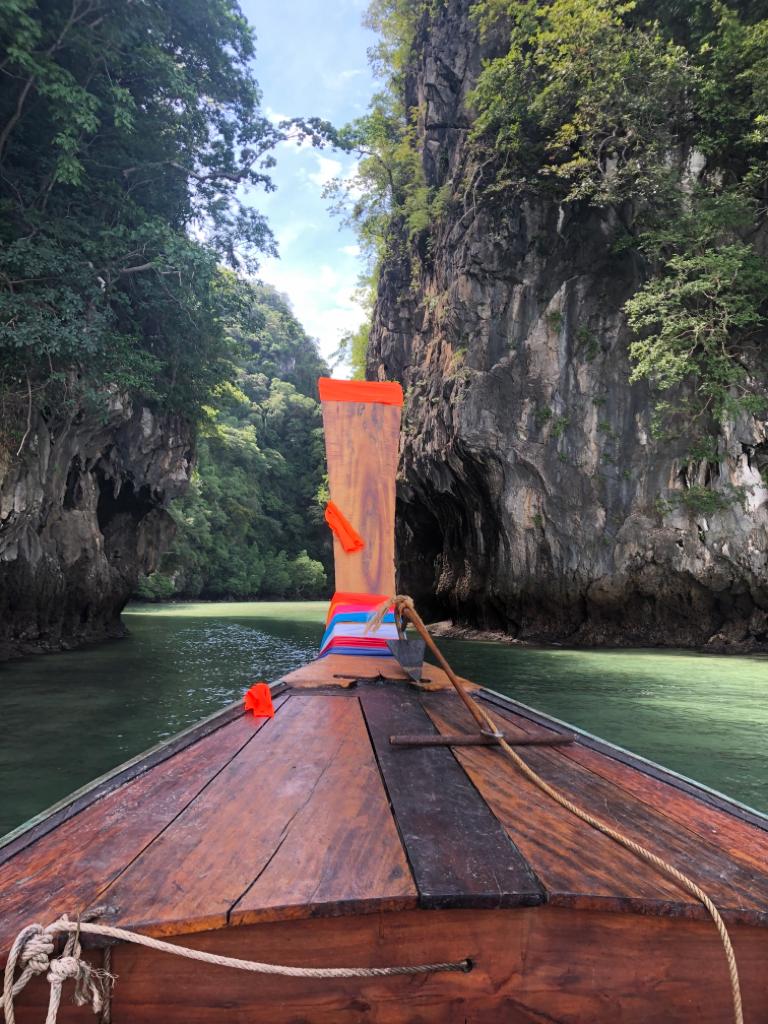 Pat and I had a flight to Malaysia in two days, but our friends wouldn't be joining us on it. Jomer's flight back home was on the same day as ours, and Dani was staying in Bangkok for a few more days before heading to the Philippines.
On our way home from the airport, we made a spur-of-the-moment decision to spend our last two nights together at a nice AirBnB in a swanky part of town rather than our own apartment. So we went home, picked up some food, packed up again, and departed once more.
Upon arriving, I was intrigued to see virtually no Thai people living in the huge condo complex. It seemed to be mostly Chinese people, and they definitely had money. In the elevator up to floor 38(!) which held our unit, we met a woman with two toddlers who asked where we were from. When Pat revealed her job in Bangkok as a teacher, the woman immediately offered to hire her to teach English to her children. Pat wasn't particularly interested in the offer; she smoothly pretended to scan the woman's Line barcode just as she was exiting the elevator.
A lot of farang (foreigners) actually make their living this way, offering private English tutoring in person or online. Some even do it while working "normal" jobs at schools, although that's more frowned upon from what I've heard. While Pat might have missed out on some extra pocket cash, I think she'll be okay.
We didn't do a whole lot the first day; we were pretty tired. So we downloaded a movie and painted for the evening.
The next day, we made plans to visit the Grand Palace—despite having lived in Bangkok for four months now, we still hadn't been inside (although Dani had). Temples here (and probably most of Asia) have a dress code which usually boils down to no knees or shoulders showing. Most temples are pretty lenient, and the worst that you'll get is a dirty look from the guards at the gate. But apparently the Grand Palace is different because it's such a common tourist destination. Jomer and I both showed up in knee-length shorts, and were unceremoniously told that we needed to buy pants if we wanted to go inside. Some Thai laws seem to be most strictly enforced when it can generate money, and this was one of those cases. Conveniently, there are pants available right next to the gate (those obnoxious elephant ones) for 200 baht[?].
I personally wasn't super keen on the palace, and we ended up deciding that buying pants on top of the 500 baht[?] per person entrance fee was a bit too much. So we turned around and cabbed to the India Emporium for lunch.
The plan for the rest of the day was originally to go for a swim in the condo complex's pool and then head to Asiatique in the evening, but we ended up swimming for quite some time so we opted to just go out for dinner.
The next morning, Pat and I said a sad goodbye to our friends and made our way to Don Mueang for our flight to Malaysia.
We arrived in Malaysia in the evening, so we checked into our hostel in George Town and left for a bite to eat. We found some delicious falafel wraps, then explored the city a bit.
George Town is an interesting place; it's a tourist hub, but it doesn't really feel like it. It's full of street art, and every shop we went into actually had its own unique style and set of items for sale. The next day, we planned to climb up Penang Hill, but it turned out to be out of our budget so we stayed in the city. We explored more art and shops, as well as clan jetties. Despite not doing anything very flashy, this was Patricia's favourite part of the trip. You can expect a more detailled post on Penang from her in the near future.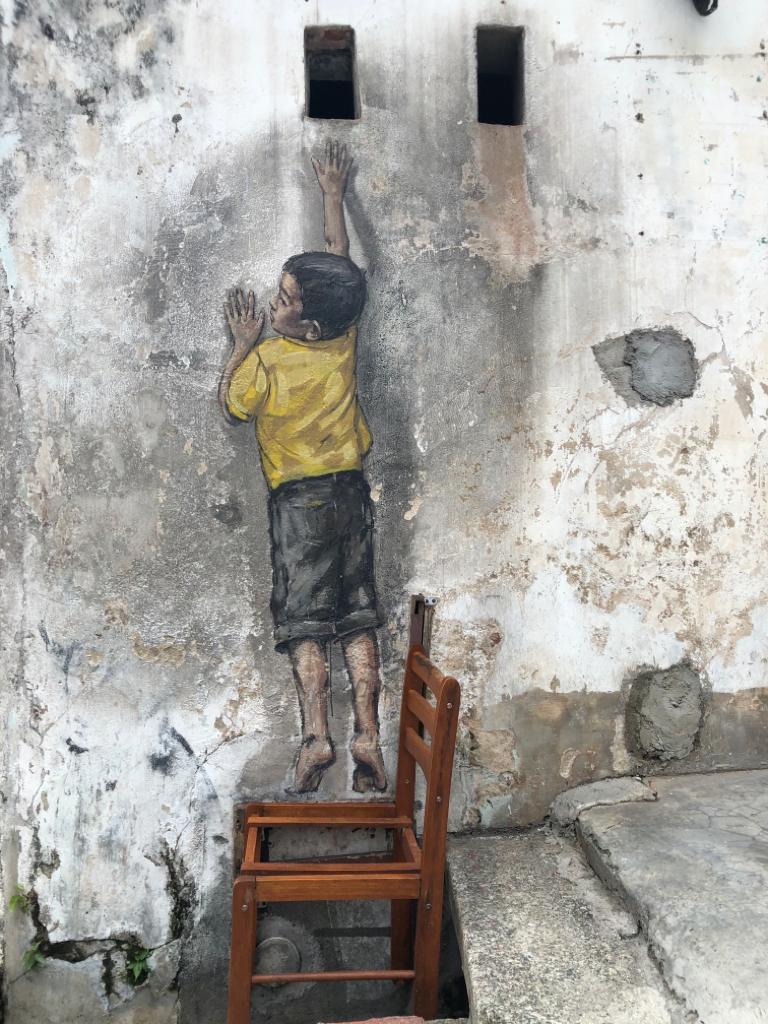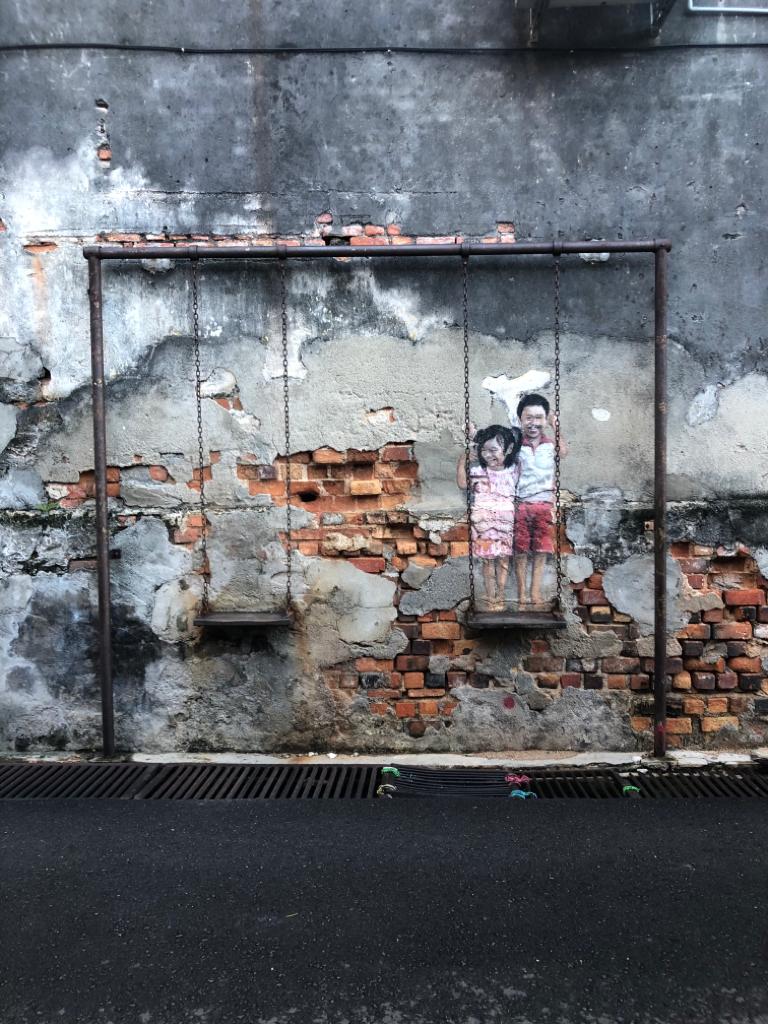 Our last destination was Singapore, where we stayed with Patricia's aunt and uncle. We arrived at the famous Changi Airport, and took the bus home.
The next day, we went to MacRitchie Park, where we hiked for around 15 kilometers, saw many monkeys and other wildlife, and completed the "TreeTop Walk" which includes a suspension bridge above the forest. I was pretty impressed that a green space that big could be contained in a city so busy. That evening, we visited Marina Bay, where we shopped and saw a few light shows.
The day after, we went to Little India as well as a nearby street called Bugis street, where there was a bunch of street art and little shops. Patricia liked it so much that we decided to go back the next day, before heading to the airport.
The airport probably deserves its own post; it's been voted the best in the world multiple times. We enjoyed the Jewel, free foot massage machines, lots of french fries, a fancy macaron, and a three hour delay before finally arriving back home at 4AM. Two hours of sleep later, I was up again to go back to work.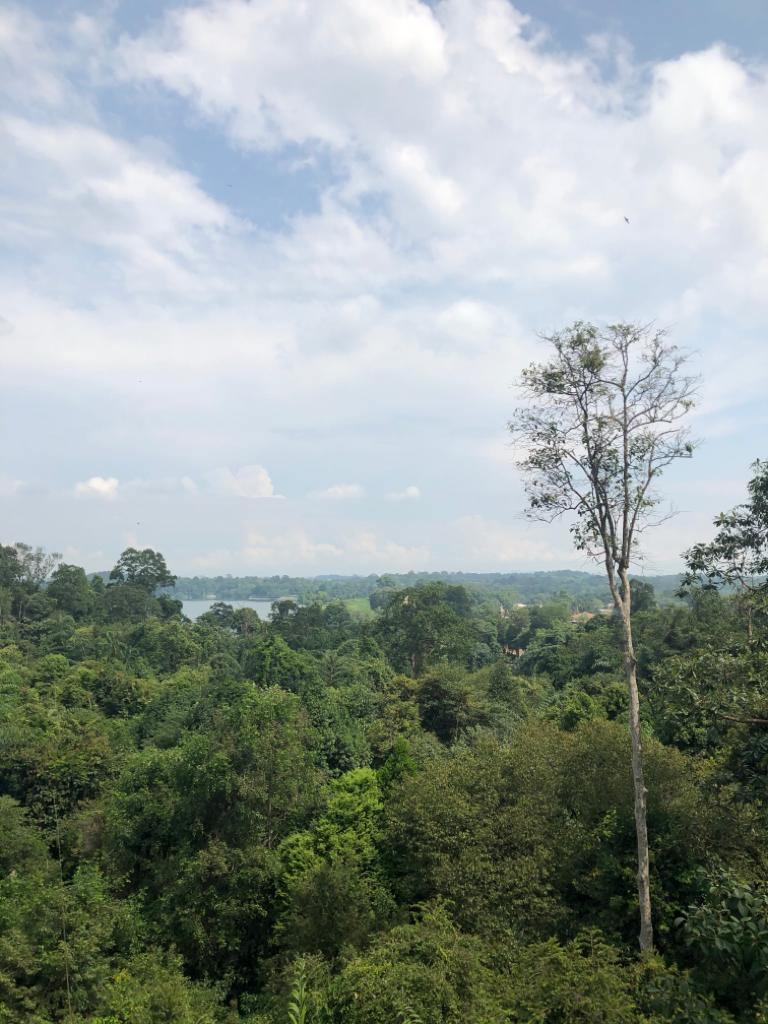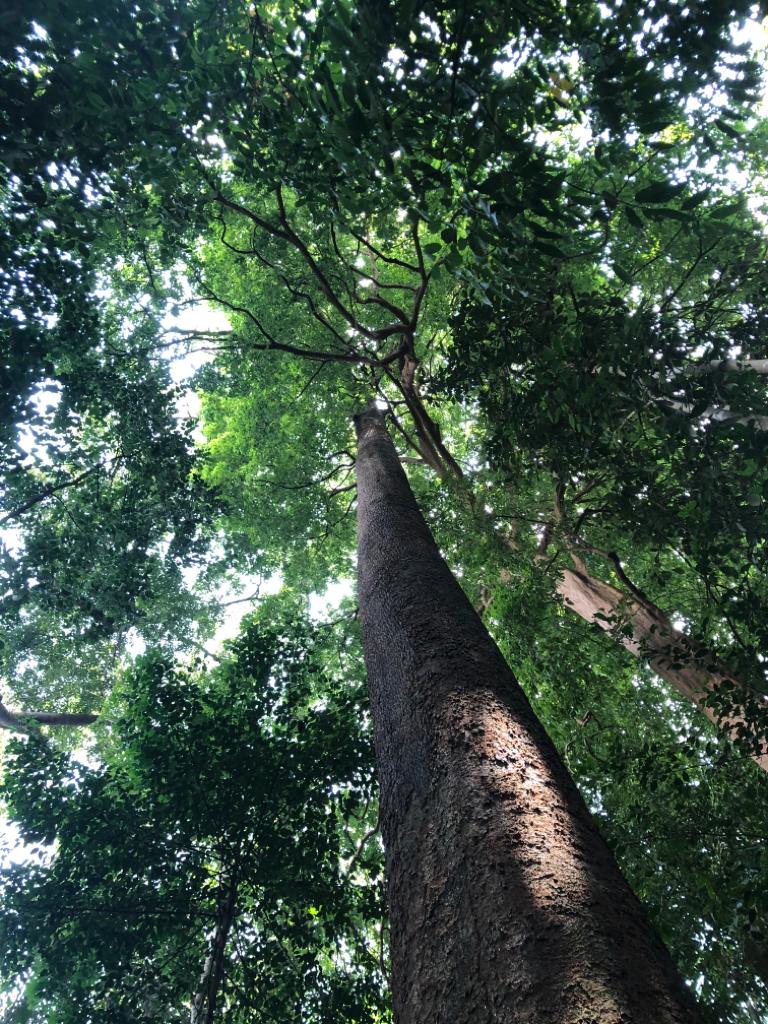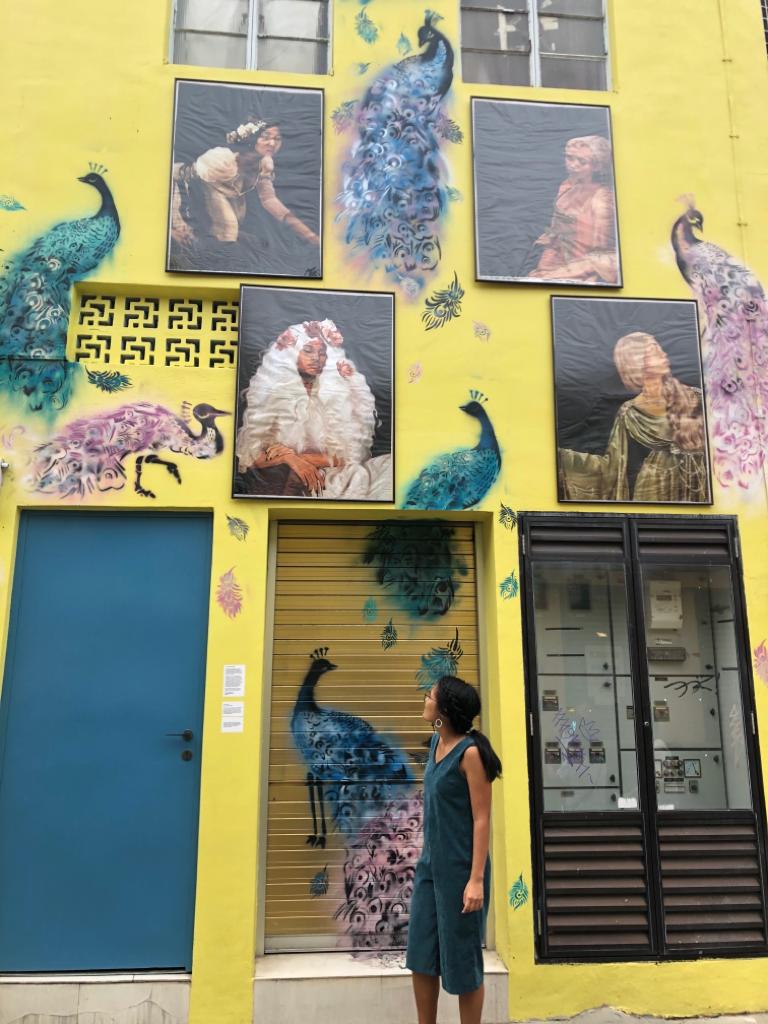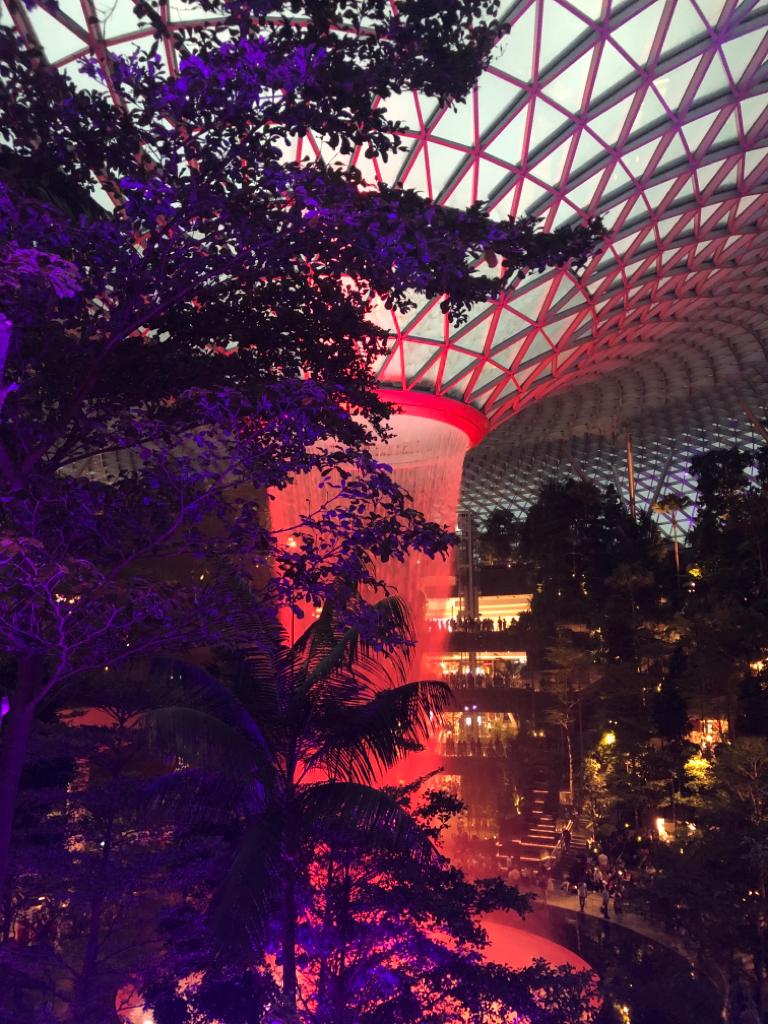 ---
This turned out way longer than I expected, and was kind of a pain to write. It was pretty rambly, but hopefully you enjoyed the play-by-play of my past two weeks. Apologies for any spelling/grammar mistakes, dead links, or bad formatting; I'm too lazy to proofread this giant wall of text.
Maybe now I'll start writing smaller, more frequent posts. Until then, so long!