Having recently decided to extend our time abroad, Patricia and I have been considering finding a nicer place in Bangkok to stay. Not that there was anything particularly wrong with the situation we were in, but the bare walls and empty spaces of our apartment didn't quite feel like home. So three weeks ago, we went looking for a nearby upgrade that wouldn't break the bank. Most of all, we wanted some space to cook, a laundry machine, and a decent view.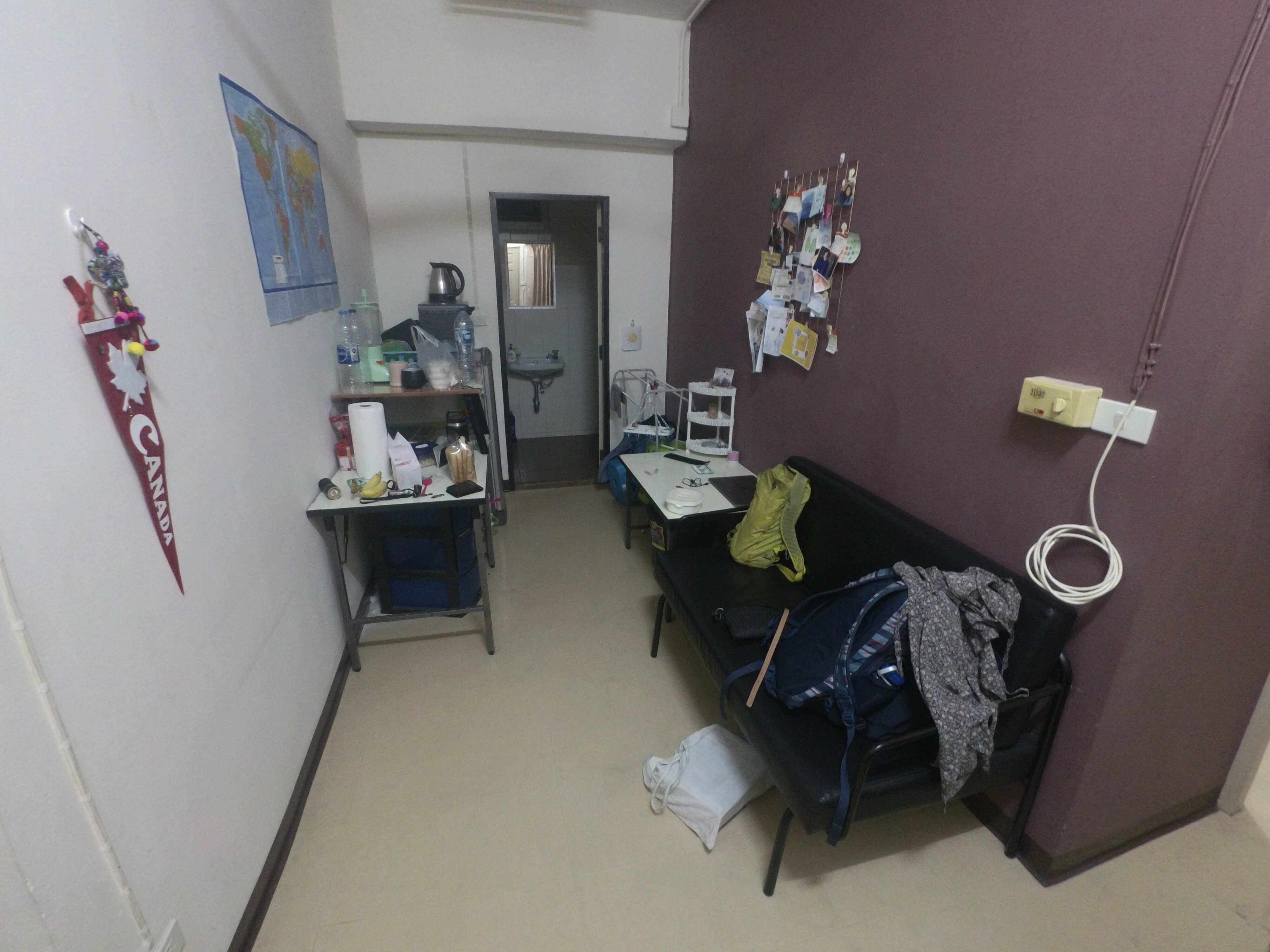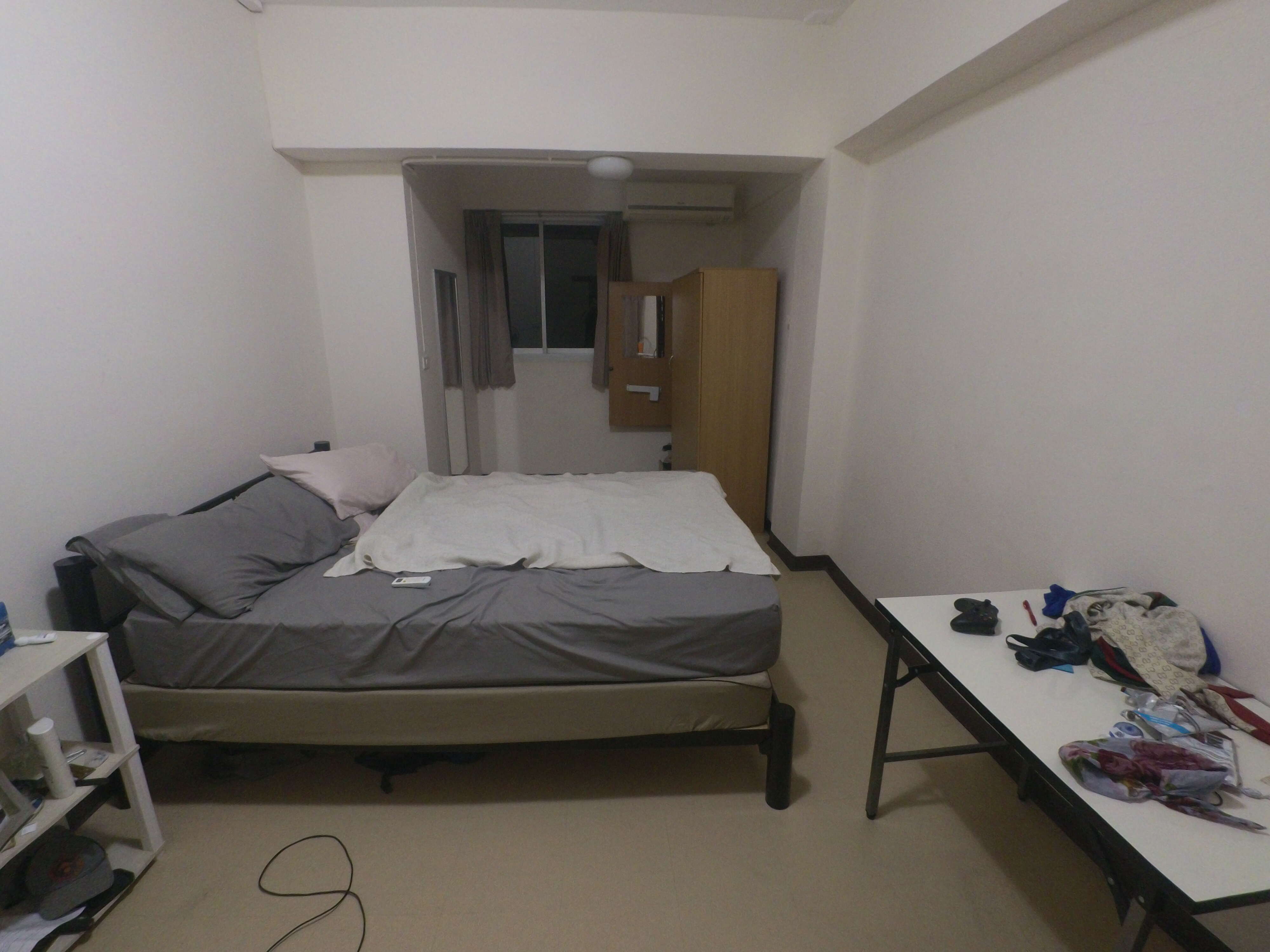 We visited four condo complexes: Parkland, The President, Fuse Sense, and Lumpini Park.
We knew that Parkland would be nice, since a bunch of coworkers already lived there and had no complaints. Its location was also really great, being directly across from both The Mall Bang Khae and an MRT train station. We saw both one and two-bedroom units, which were priced around 11,000 baht[?] and 17,000 baht[?], respectively. To put that into perspective, we were paying about 7,500 baht[?] for two bedrooms. We figured that the one-bedroom unit fit our needs pretty well, and were prepared to rent there if we didn't find anything better.
Next, we walked to The President, which was behind the mall. The rooms and prices were basically identical to Parkland, but it was not as conveniently located, despite being close by, since it was not on Phetkasem Road.
Afterwards, we headed to Fuse Sense, which was cheaper by a few thousand baht. The rooms were nice (one even had two bathrooms!) albeit not as lavish as the ones we had seen previously, but I wasn't a fan of the location. The complex sat between The Mall Bang Khae and Victoria Gardens, another shopping centre, but it wasn't that close to either of them and there just wasn't that much else nearby.
For our last stop, we went to Lumpini Park (which is a condo, and not associated with the actual Lumpini Park across the city), but they were done showing people around for the day. We went back the next day and saw two one-bedroom units, which were priced at 7,000 baht[?] and 8,000 baht[?]. We really liked the layout of the second one, and it had everything on our list. The complex was right across the street from a Makro (think Costco but without the membership) and a Big C (think Walmart but even more outrageously large), and Victoria Gardens was only a short walk away. I was also a big fan of how green the grounds were; it felt like walking through a park rather than a parking lot. Plus, our tower was nestled in at the back of the complex, away from the loud traffic of Phetkasem Road. We eagerly put down a deposit for the second unit and set a move-in date of November 23rd.
That day has finally come, and we are happily settled in our new place! It took most of the day to get everything carried over and unpacked, and some more time over the course of the weekend to get things organized. Hosting a housewarming games night and attending a Battle of the Bands—reminiscent of School of Rock and featuring my grade 8 and 9 students—got in the way. Our new place is an improvement in too many ways to write down here, but the highlights are:
Our days of washing dishes in the bathroom sink are over. The kitchen comes with a sink, hot plate (built into the counter), full-size fridge/freezer, kettle, and microwave. We also brought our blender (that we have yet to use) and toaster oven. We are really excited to be able to cook at home now and then!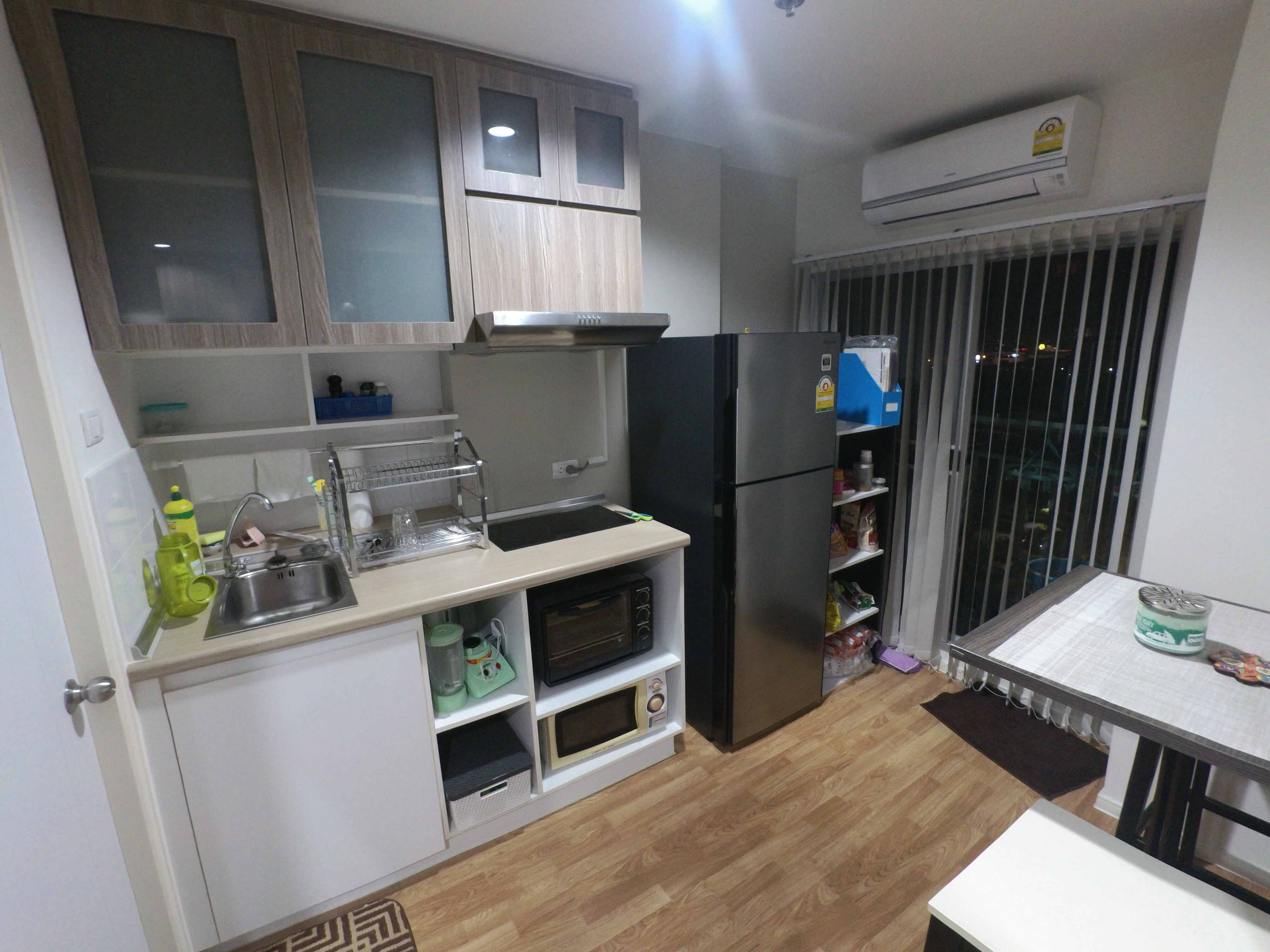 Despite being really small, it's cool to have a big couch and a TV. It just feels "homey". Plus, the couch pulls out into a guest bed! I'm planning on converting a Raspberry Pi I have sitting around into a retro gaming console for even more living room fun.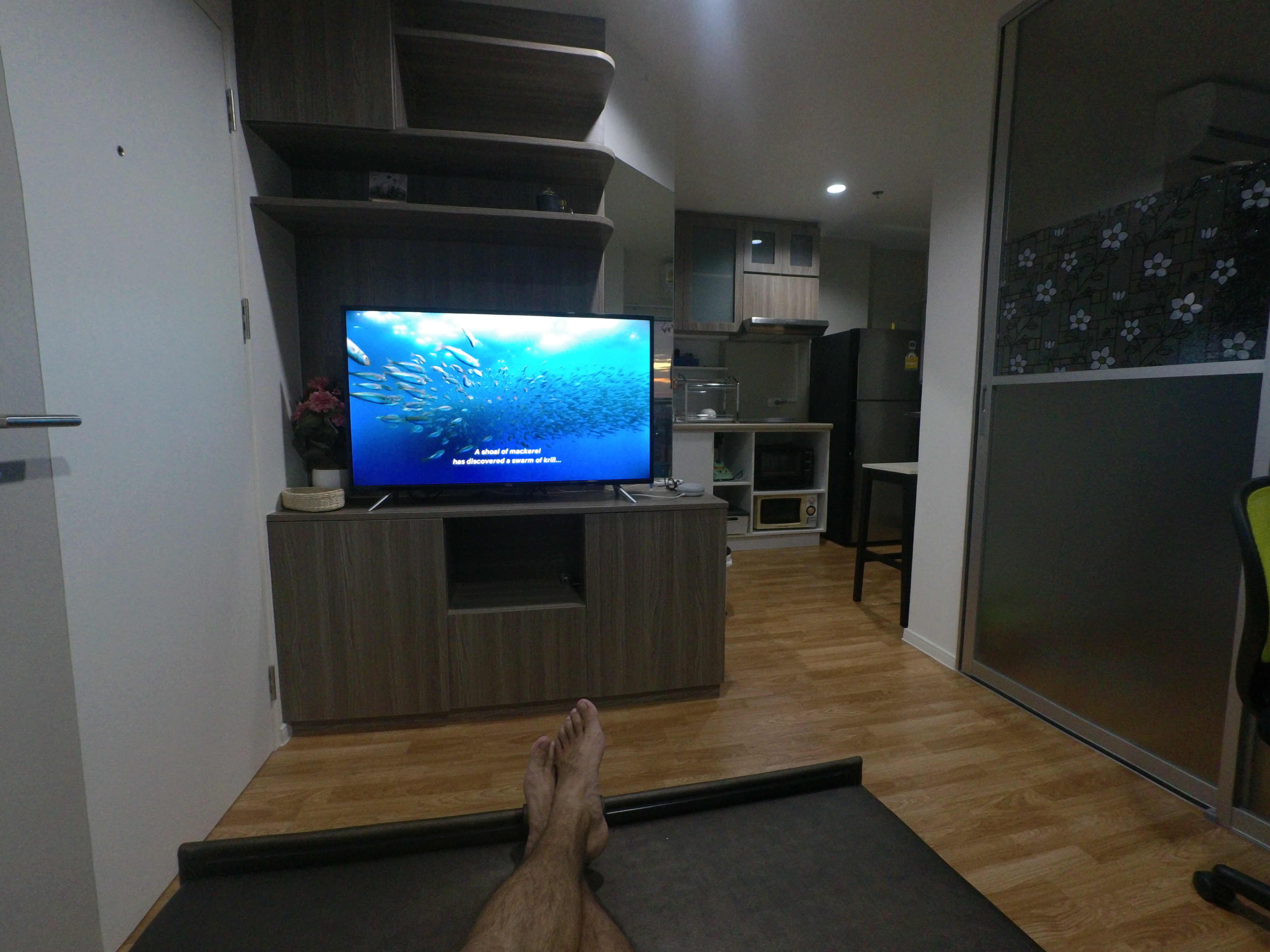 I don't usually care much for interior design, but even I knew that the pure off-white colour palette of our old place was displeasing. Our new condo still has white-ish walls, but it has light brown hardwood (or more likely, fake hardwood) floors, and all the shelving has a grey wood grain finish. The curtains are a dark grey, too. It's really crazy how much that extra contrast makes it feel like a home instead of a hospital room. There are also a lot of mirrors, which make the space look bigger than it really is.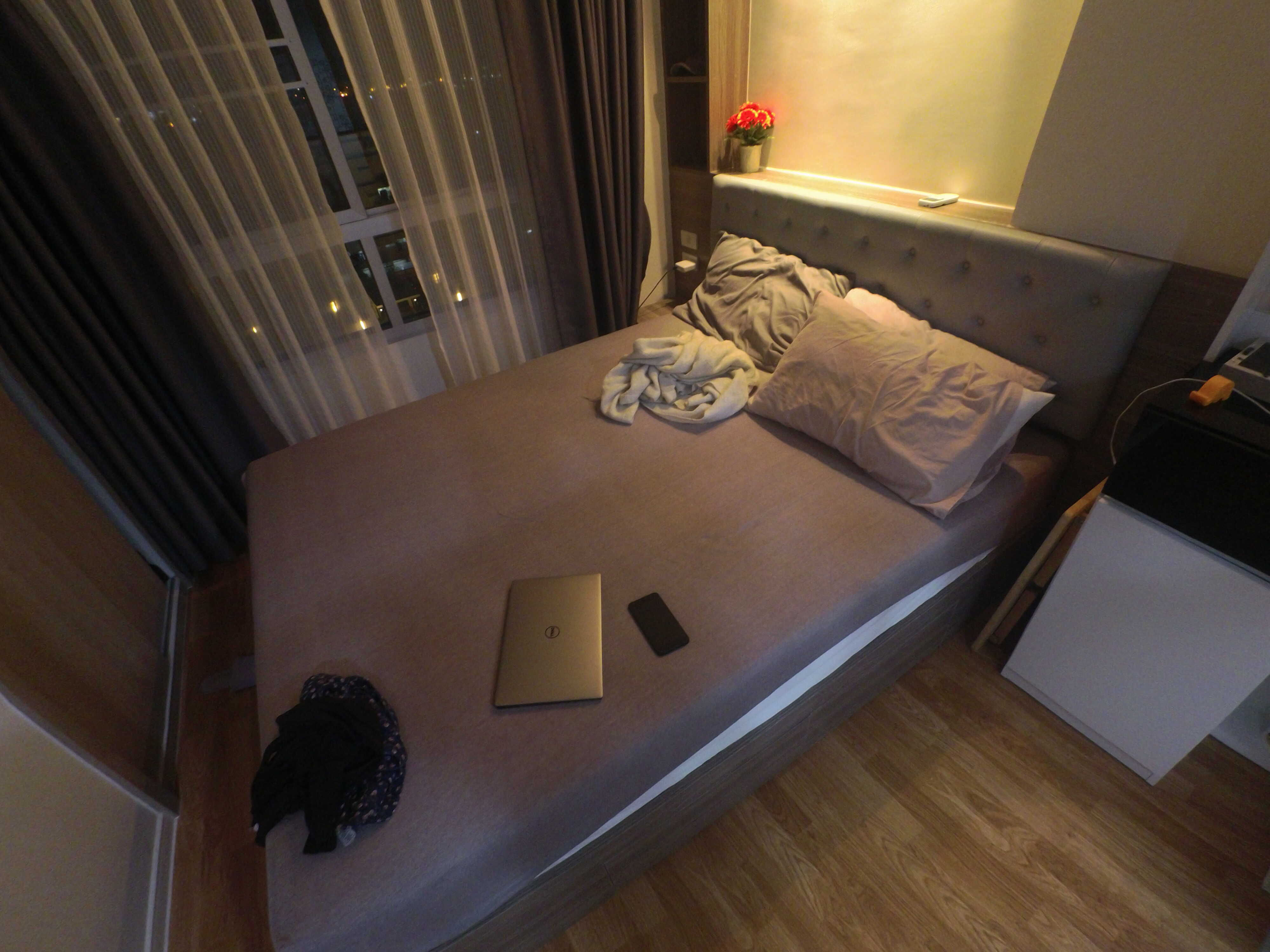 Our old place basically consisted of three rectangles of floor with beds, tables, etc., so it's really nice to now have walls that are quite well-covered with shelving. Even though we have less space than before, it feels way less cluttered because we have lots of cupboards to put things in.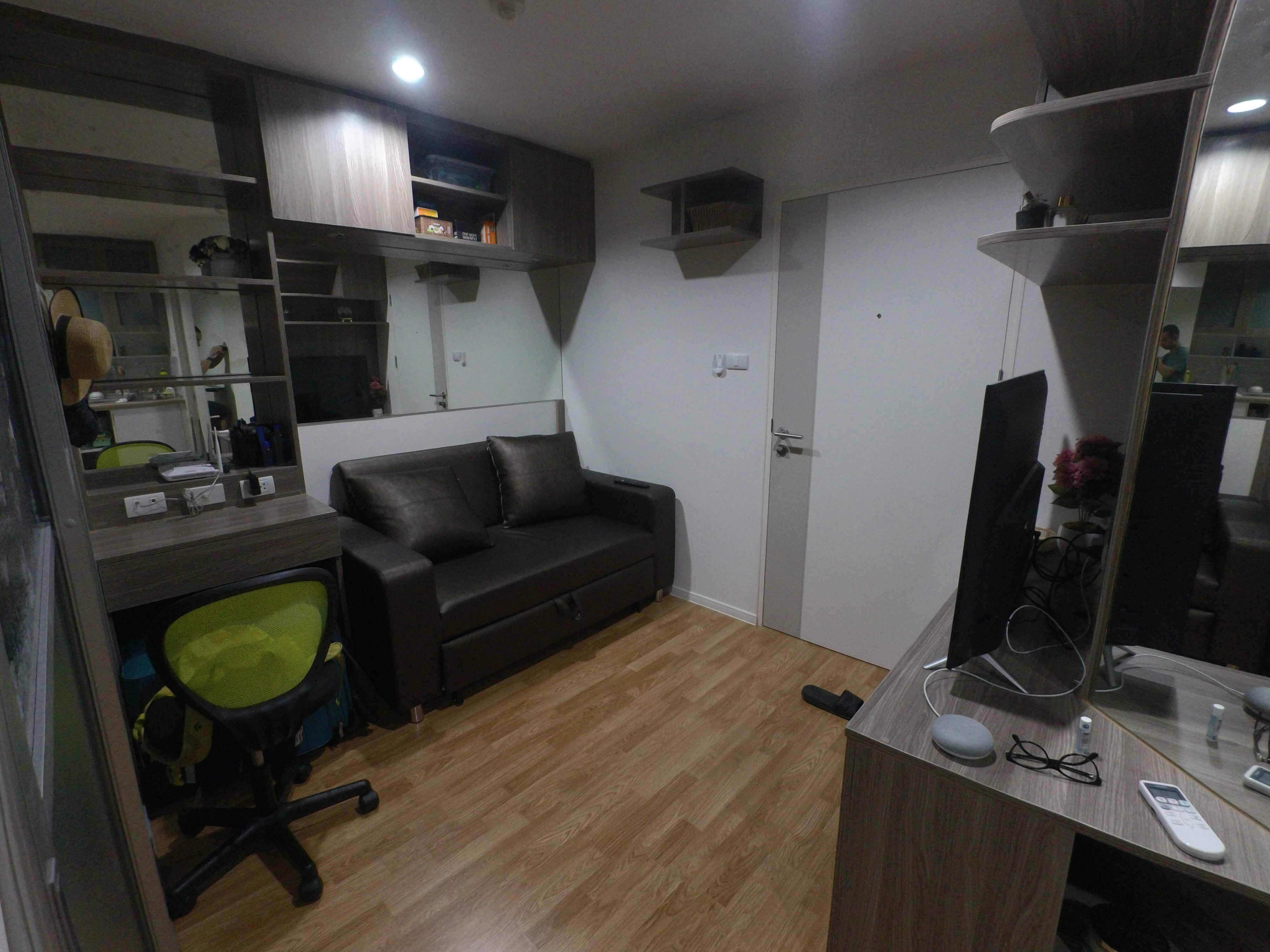 Our laundry room is very open-concept, as in it's a balcony. It comes with a nice view of the pool and gym, too. We're up on the 9th floor, so while it's not quite as breathtaking as the penthouse views that we were quietly hoping for, it'll do.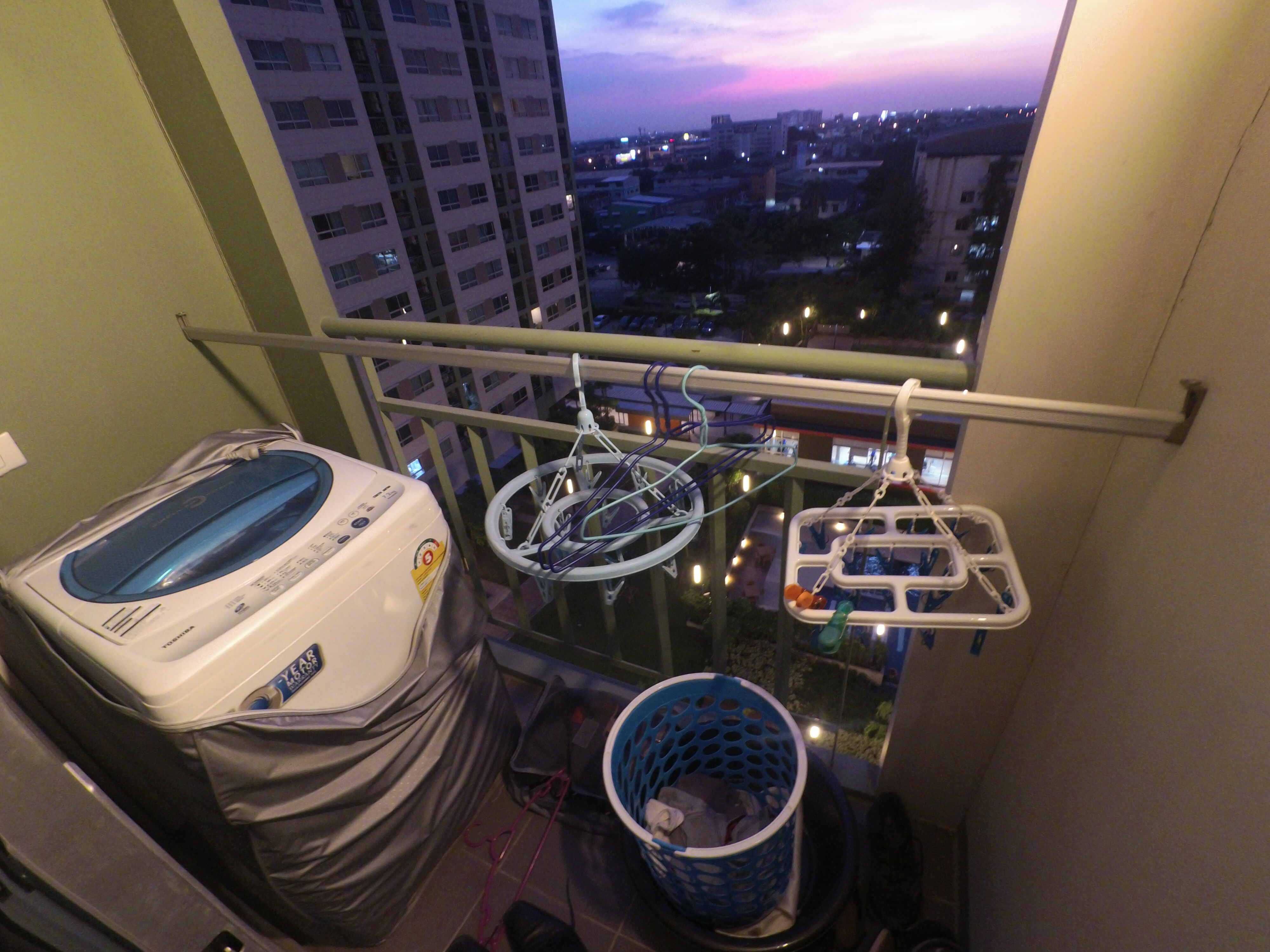 I haven't ran much here in Thailand for a few reasons:
It's really hot outside
The air is very polluted or otherwise smelly
There are no nearby parks, and the sidewalks are frequented by motorcycles
Now that we have access to a gym, I'm going to try to make a real effort to get back in shape. I'm pretty outspoken about my hatred of treadmills, but I'm going to try to get over it because there are not many alternatives.
None of these are particularly bad, but of course not everything is perfect.
We have three full-sized luggage bags, and they don't really fit anywhere right now. We stuffed them underneath a desk, but that's supposed to be leg room for someone sitting there. However, there are some coffee tables occupying an open space behind a shelving unit, so hopefully once we get rid of those, we can put the bags out of sight. Basically, we just don't have any room for awkward large objects.
Patricia has a lot of clothes, and we only have one closet and a few drawers under the bed in our bedroom. Lucky for her, my wardrobe is pretty small and I occupy about an eighth of the space, and she gets the rest.
Patricia used to be able to walk to school, but no longer. Luckily, some of her coworkers live here, so they'll cab together. Meanwhile, I've been separated from the loyal cab group I've ridden with to work every day for the last four months. We're going to try to make it work, because our commutes are one of the best parts of my work day. Last Friday, I asked the Thai staff for advice on how to tell cab drivers that we want to do a pickup/dropoff, so I hope that we can get the point across.
Our last apartment had free internet, and now we have to pay for our own. However, this might actually be a blessing because the communal internet kind of sucked, and now it's really fast. Internet service here is pretty cheap; our plan is less than 400 baht[?] per month.
We used to frequent three restaurants that had great vegetarian options: Ping's (although it also had an "official" name of Pupapa's, everyone referred to it by its lovely owner's name) was the place to get pad thai. What's The Food made the best fried rice, and Taiwanese Noodle House (which probably also had another name) had amazing fried noodles, veggie rolls, and many more awesome dishes. Not to mention Tucker, our exclusive crepe provider. These were suggested to us rather than us finding them on our own, so now it might be difficult to discover a new set of go-tos.
Overall, we're really happy with our move; both Patricia and I have noticed how much more this place feels like home. Time will tell how much our total bill for each month will be, but I'm guessing it won't be more than an extra 2,000 baht[?]. Totally worth it for the greatly improved quality of life!
Lumpini Park also let us sign an eight-month contract instead of the normal twelve, which means that we'll be able to move somewhere else for next school year if we so desire…